Tips for organising an event
Are you putting on a local charity fundraising event? Maybe you're looking into coordinating a corporate team building day? Whatever you're planning, be sure to check out our top tips for when it comes to organising an event! Here at I Do Festivals Group, we have an incredible amount of experience that we would love to share with you. Start organising early!It's never too early to get a jumpstart on your event organisation. Grab a new notepad, your favourite set of highlighter pens and let's start conceptualising some ideas for your event! But beware, don't get ahead of yourself just yet, as you will need to take into account the next couple tips very carefully. Establish your goalsOf course, when it comes to planning an event, you don't want to lose sight of the main goals you want to get out of it! Whether it's a wedding, a music festival, a corporate event or something completely different, you need to make sure you know exactly what will make that event a success as everything you do will be tailored towards those goals. For example, you may want to ask yourself the following questions: What is the purpose of this event?How many people would I like to attend?Who is my demographic?Is there a fundraising target I'd want to reach? Set a realistic budgetIf only every event had a carte blanche budget! Unfortunately, this is rarely ever the case, so before you start to book the three bouncy castles and five different street food vendors, make sure you're taking into account a realistic budget. Living beyond your means is certainly a recipe for disaster and can have a knock-on effect for the rest of the event if it isn't organised and solidified at the very beginning. Make sure to separate out your totals for each different aspect: Entertainment budget = £WCatering budget = £XDecorating budget = £YVenue budget = £Z To keep track of your expenditure, be sure to create a spreadsheet comparing how much you're budgeting for, what the actual cost is and the amount you currently have left! If you're not entirely sure how this should look, check out our other blog post which can provide you with a free event budget spreadsheet template and calculator! EntertainmentEvery event has got to have some version of entertainment! Dependent on what type of event this is, will have an effect on the appropriate type. For example, for a wedding you may want to book a live band. For an industry event it may be appropriate to organise a drinks mixer between talks so that your guests can mingle and get to know each other. These entertainment events may also be a great way to enhance any sponsorship deals from potential speakers! Contingency planLet's take a deep breath and say this together "sometimes things can go wrong" and most of the time this is out of our hands, but that's okay, these things happen. When you have a contingency plan in place then you can rest in the knowledge that the past version of yourself already has this issue covered! Keep in contact with your vendorsThis may seem unnecessary, but to save yourself some stress, you may want to keep checking in with your vendors. You don't want the nightmare scenario of booking a vendor to have them not turn up three months down the line! There's no harm in making sure you're still on their radar and it could be an opportunity for you to enhance your event through collaborative ideas. DelegateDependent on the type of event you're putting on, as the event planner, there's no harm in delegating jobs to others when necessary. If you're a bride planning your wedding, try asking one of the members of the bridal party to help you out with some of the odd jobs. After all, it's almost part of the job description! If you're organising a corporate event, then maybe look to form an events team when you begin planning so that you can share the responsibility and workload. Ask for feedbackConstructive criticism is a useful way of learning what went well and what didn't. To become a better event planner, asking for honest feedback from your guests about what could have been done better and what they liked about the event will help you if the type of event your organising becomes annual! Contact us now to book your Festival! Email - info@idofestivals.co.ukTelephone - 01329 448280 #LETSCELEBRATE ​
FREE Event Budget Spreadsheet Template
When it comes to planning an event, one of the aspects that we definitely need to keep track of is the budget. The best way to do this is by plotting out all of your expenditures in one place and understanding how that affects your total. We think that the best way to do this is by using a spreadsheet program such as Google Docs or Microsoft Excel. Download your FREE event Budget spreadsheet template now! The three main sections that your budget spreadsheet should contain are: The budget totalThe budget summaryThe budget breakdown Having the above three sections will give you visibility on all the outgoings from both a top level perspective and down in the detail. If you don't feel like you're technically savvy enough to create your own template, then fear not! We here at I Do Events have put together a simple budgeting template for anyone to use. Simply download it here! The Budget TotalOn the right-hand side, we have a small section that lets you input your total budget allowing you see compare it to the amount you've actually spent so far and what the current discrepancy difference is: The Budget SummaryOur budget summary looks as follows: We've wanted to make sure that the visualisation for top level metrics was simple and easy. You don't need to touch a thing in this section! It auto-populates when you add the details within the budget breakdown. The Budget BreakdownHere is where we get into the nitty gritty of the spreadsheet! The budget breakdown takes the headlining expenses and breaks them down into sections where you can add each additional expenditure. For example, in the Venue breakdown you may want to include the cost for the venue, the additional cost for a bar, the cost for clean-up afterwards as well as the cost for hiring staff for the evening: You may have noticed that we've even included conditional formatting which turns the discrepancy cells green or red, indicating a positive or negative effect on budget so you can see how this could affect the costs overall! Download our free budget template now and get budgeting for your very own event! Alternatively, if you're looking to pass on the mantle of event coordinator onto someone else, get in contact with us here at the I Do Events Group and see if we can take the weight off your shoulders and provide an incredible event! Contact us now to book your Festival! Email - info@idofestivals.co.ukTelephone - 01329 448280 #LETSCELEBRATE ​
I DO FESTIVALS GROUP PARTNERS UP WITH OLIO
What better way to end food waste than joining up with OLIO? When we waste food, we're not just wasting food. We're also wasting all the resources that went into growing it. This comes with a heavy carbon footprint as well. When food is disposed in a landfill it rots and becomes a significant source of methane - a potent greenhouse gas with 21 times the global warming potential of carbon dioxide. Growing and transporting the food that goes to waste emits as much carbon pollution as 39 million passenger vehicles. The global food system is responsible for up to one third of all human-caused greenhouse gas emissions, making it one of the largest contributors to climate change. So, to stop contributing to these awful effects on the environment, we are excited to announce our new partnership with OLIO! OLIO is aiming to help the planet with their new sustainable food business. They connect communities with local businesses so surplus food can be shared, and not thrown away. This could be food nearing its sell-by date in local stores, spare home-grown vegetables, bread from your baker, or the groceries in your fridge when you go away. They have already accomplished a lot including gaining over 600,000 OLIOers; they have successfully shared 1,138,886 portions of food in 32 countries! Here at I Do Festivals Group we are eager reduce our carbon footprint. The events industry is prone to excess catering, and sadly, we are no stranger to that. Owning The Street Food Catering Company, The Swine Waiter and our brand-new company, The Vegan Catering Company, we are often left with wasted food. Whilst we try our hardest to estimate quantities of food produce at our festivals, working with OLIO will mean that we will be able to salvage what we have left over instead of wasting it. By sharing and being more sustainable with our left-over food alongside our waste-free philosophy, which involves leaving nothing but memories and footprints to the venues we are passionate about working with, we have increasingly reduced the amount of plastic we have at our festivals and will be working with OLIO volunteers and their food waste heroes together to make sure we end food waste.
Hiya, I'm Holly! Originally from Nottingham, I moved down south for a summer of festival fun with the I Do Festivals Group. As a placement year goes, I couldn't have asked for a more diverse and exciting few months in a company that has cemented much of my degree learnings. Reading International Events Management at Sheffield Hallam University has been a brilliant degree to undertake and this job has allowed me to utilise many of my skills in real life scenarios. This job has opened my eyes to outdoor events, from fantastic corporate gigs to stunning wedding ceremonies. I will never forget the feeling after our first event of Lucozade Ribena; I was in awe that we had arrived at an empty field, created the most amazing experience, and left the field in the same empty state. There is no greater reward than seeing clients and guests smile and enjoy their day with the amazing surroundings. This summer has brought some brilliant times of which I have created the best memories and been able to meet the most fantastic people, topped off with endless sunshine! Although with that, there have been some challenges and hard days too. I find the best part of this job to be how different each day is - we are provided with a blank canvas field and a whole load of promise to set up a fantastic festival. Each event is bespoke meaning there is always something new to learn, always something different to create and always more fun to be had. A new-found love for silent disco is something I am glad to have in my life, and working so many jobs at the same event site has given me a true insight into the logistics of event management. From the intricate details of stunning wedding areas to the crazy stage and lighting at corporate events; each event has had the wow effect and it can be amazing to realise the crazy gigs we do pull off! Seeing the bride and groom overjoyed, or the management team of companies at their happiest, is something I feel proud to be a part of. Hard days do exist too though! My biggest learning curve has been aclimatising to be outdoors all the time - yes we have been grateful with the weather but learning to camp effectively has been my biggest skill learnt. Condensing my belongings to one bag and living out of tents was never something I thought I'd be doing but after having to walk through herds of deer and alpacas, and brushed my teeth next to wallabies, I think I can take on any new experience! Events is an industry prone to long hours and being outdoors can make it feel even longer, but I have had the most amazing of summers with unforgettable memories. The people, the parties, the process of everything is something I am proud to have been a part of! Contact us now to book your Festival! Email - info@idofestivals.co.ukTelephone - 01329 448280 #LETSCELEBRATE ​
Over the next couple of weeks we are going to share some of our crew's moments from the summer. Starting this off is Lottie who joined us this June. Interesting read if you are contemplating events as a career. Studying Hospitality Management at Portsmouth University and having previous experience in the hospitality industry I felt it was time for a new adventure being that of I Do Festivals! Events have always been an area of the industry I have wanted to learn and experience and luckily was given that chance with an internship. I didn't really know what to expect when on an early morning in June I made my way to the I Do offices to start what would be a summer of fun packed festivals, weddings and corporate events with a fantastic team. This summer has opened my eyes to just how much work is put in to pull off an out of this world event. We have experienced many types of events, locations, clients, and themes along the way from family fun days to an amazing two day wedding where guests were encouraged to get their glitter on and boogie the night away. As a team we have made amazing memories not just for the clients but ourselves also. Listening to how happy our clients have been during and after the events have made the whole summer well worth it. Thrown right in at the deep end with our first event only 2 days into the internship where it's safe to say I was excited, nervous and honestly didn't know what to expect. Turning up at Henhaw Farm on a sunny Tuesday morning bright and early and seeing an empty field it was safe to say I couldn't see how we were going to turn this into a festival. Lucozade/Ribena were turning up in just 2 days and it was time for the hard work to start. Everything from hay bales, bell tents and flags to an unbelievable amount of fairy lights the site transformed into something magical. Event day seemed to come around with a blink of an eye and before I knew it we had 150 delegates on site exited to see what the day had in store. The day started with the guests being split into 4 teams where they did fun filled activities based on business content. Once work was out of the way it was time to go full festival. To say I was apprehensive about being super smiley and interacting with the guests to get them pumped was an understatement it was something none of my previous employments included so this was a big challenge for me. Before I knew it the party was well underway with live music, glitter and lots of dancing. The event truly gave me an insight to what the season had in store and also came with a lot of lessons on surviving the season ahead such as; in hot weather = high water consumption and an early night when possible makes the world of difference. Even though this was the first event the learning wasn't going to end there, the season came with many lessons and learning curves to make us the best possible event managers that we could be. We then followed from this to put on other corporate festivals for companies such as Hotwire, HGP, Wiggin and many more. The next new experience was working weddings which I have to admit I was very nervous about. Despite my original worries I found weddings were my favourite events to work being a part of a day that the happy couple would never forget was super rewarding. I don't think I ever realised just how much planning and preparation goes into a wedding day having only attended a few weddings before. I would be here all day if I went into detail about every wedding I worked this year instead I will talk about my favourite parts of working and running a wedding festival. No two weddings are the same each wedding that I worked this season came with its own unique quirks, guests, live bands and set up this made every wedding equally as special as the last and meant that what we created was truly personal to the happy couple whether it be a laser show in the woods, a themed 80's night along with live bands or a carefully choreographed first dance routine. With each wedding it was always the speeches that got me when you could truly feel the love flying around the venue through either cringe stories or heart felt declarations 9 times out of 10 I would always end up with a tear in my eye and it honestly made all the hard work worth it. Along with all the fun and games of the events also came the behind the scenes work that no one really thinks about like the cleaning! Can't say it's the most glamorous part of the job but none the less a job that needed doing. Many hours, sponges, rubber gloves and buckets of hot soapy water were used to maintain the equipment to ensure it was ready to go on every job. Safe to say this wasn't one of my favourite jobs but taught me that there is more to events than just the events. To wrap this up before I go on and on for days this season has been full of fun, laughter, hard work, character building, lessons and memories that will stay with me for years to come and now gearing up to Christmas for our exclusive parties I cannot wait to get stuck back into the world of working events and cannot wait for the 2019 summer season to begin. Lottie x ​
Chi & partners, Glitterbox
CHI and Partners tasked us with the mission of putting on an awe-inspiring Christmas party for their company in our brand new central London venue, The Arch. We had the challenge of following the awesome summer party we provided for their staff and clients. In the brief, CHI requested a party that would be remembered for years to come, as well as being stylish and cool, following their chosen theme of Futuristic disco. Read below to see how we delivered the Christmas party of the season! On the 14th of December at The Arch in Vauxhall, the day had finally arrived for the Christmas party of the year! Slightly bias we know, but it proved to be just that. We arrived bright and early at the venue, with coffee in one hand and decorations in the other, ready to get our busy prepping period up and running! At all times keeping to exactly what our fab clients envisioned for their high-end event, we began to load in heaps (and heaps) of our illuminated, futuristic themed furniture and props. From our extremely snazzy illuminated dance floor, to our sparkling hanging disco balls, we began to get hyped about just how dazzling the rooms were beginning to look! One furniture piece that we are extremely proud of (and will happily show off about whenever possible) is our LED Geo Bar, where you could simply touch the top of the bar and it would change the colour of the bar – IF THAT'S NOT COOL THEN WE DON'T KNOW WHAT IS. The day flew by and before we knew it, we had our first guests arriving. With the rooms sparkling, we welcomed our guests in true VIP style. We took their coats and bags and swiftly handed them a glass of bubbly to begin the evening celebrations. Amongst the free flowing prosecco station, there were certainly a few men who rushed swiftly passed the prosecco to get to the ice buckets of chilled Peroni! They then headed upstairs to be welcomed into the upper gallery, where it seemed to offer the real 'wow' factor as soon as the guests walked in. Around the outside of the room we had enormous white illuminous towers that gave a real glow to the room, and made our floating stars shine and sparkle till the end of the night. We created an array of seating areas made up of white leather sofas with stylish coffee cubes to achieve the classy, yet chilled vibe that our clients had desired. We were dazzled by some of the outfits that were being paraded around the party, from people in matching sequin jackets, glitter flares and a massive shout out to the man who got really into it and painted himself head to toe in silver glitter (you won best dressed in our eyes!) It was then time to move downstairs for the long-awaited reveal of the Arch, where everybody knew that was where the party was really going to get started. As the guests followed the fairy lit path into the Arch, I think it's safe to say the guests seemed amazed at what we had transformed the space into! They walked in through a smoke screen to see a sparkling dance floor with the lights reflecting off the floating disco balls. Thanks to Lights and Beats, the stage was looking on pointe, where our headline act was ready and raring to tear up the dance floor. And that they certainly did - so much so that it was impossible to for TCFC crew to fight our way through the crowds to clear glasses! As the band took a break from their rocking set, The Street Food Catering Company served up three delicious Big Pan dishes. Small bowls of each dish was served by our lovely waitresses to our guests on the disco floor. Plenty of hot jerk chicken curry, aromatic Thai green curry and a scrummy three bean vegan chilli was made by our Chefs so that everyone could have a bit of everything! (drinking, eating and dancing all at the same time – what a dream). Now - what everyone had been waiting for... PUDDINGS. TSFCC did a great job serving the mini dessert bites to the guests on the dance floor for those who had any room left in their stomachs. The crew struggled their way through the crowds and returned with empty trays! Having a selection of mini bites is a great way to have a little or as much as you like – in our case, 17 brownie bites each seemed like a sufficient amount for our crew (we were working very hard!) On a sidenote, we should also give a shoutout to the entire company of CHI and Partners, for the amount of gin lovers they must have. The amount of gin and tonics our bartenders served was quite incredible, so fair play to you all!! This was the second event we have organized for CHI and we absolutely loved it once again and feel extremely happy that you chose to use us again! It was quite a different event to what we usually do (we weren't on a field in a marquee in the boiling sunshine) and we literally can't wait to do more events like this! From here at I Do Festive, we all hope you had a lovely Christmas and a happy New Year! #LetsCelebrate ​
We are quickly approaching our I Do Festive season so what better way to kick of Christmas celebrations than asking our Festival Bar Company for some festive inspiration! The team over at the Festival Bar Company have been working hard to come up with the best festive cocktails for our corporate festival events. Here are our 6 favourite festive cocktails to spice up your life... Red Rudolph 50ml Rum 1 Lemon Wedge 25ml Lemon Juice 25ml Grenadine Syrup Cranberry Juice Maraschino Cherry Add the rum, lemon juice and grenadine into a cocktail shaker filled with ice Shake, then strain into a cocktail glassAdd Cranberry juice to fill Garnish with a lemon wedge and maraschino cherry Gin and Ginger Cocktail 50 ml spiced gin Slice of fresh ginger Tonic water Orange peel for garnish Muddle the ginger in the bottom of a highball glass and fill with ice. Add ginTop up with tonic waterGarnish with orange peel Cranberry Mojito 2 tablespoons of fresh mint leaves 2 tablespoons of sugar ½ lime, cut into wedges Cranberry juice 25ml light rum Top with sparkling water Ice Garnish; lime zest, lime slices or fresh cranberries Muddle the mint, sugar and lime in a tall glass. Then add the ice, rum, cranberry juice and sparkling water, and stir. Garnish however you wish! Baileys Hot Chocolate 50ml baileys Original Irish Cream Hot chocolate powder Pour the baileys into your mug of choiceFollow the instructions of making a normal hot chocolateMix the two togetherFinish with some whipped cream! Gingerbread Bellini 350ml Prosecco A few drops of Lemon juice 1 tbsp of Gingerbread Syrup 50 ml Frangelico (Hazelnut Liqueur) Mix together the lemon juice, ginger cordial Add hazelnut liqueur Pour in the mixture into the champagne flutesTop up each glass with Prosecco Winter Spritz 50 ml Aperol 75 ml Champagne or Prosecco Ginger beer, to taste Orange slices and basil leaves, to garnish Pour the Aperol and fizz into a glass full of ice. Top up with ginger beer. Garnish with slices of orange and basil leaves. Contact us now to book your Festive Festival! Email - info@idofestivals.co.ukTelephone - 01329 448280 #LETSCELEBRATE ​
Announcing Our Very Special Partnership With EMG!
We are just a bit excited to announce that after an amazing first year working alongside EMG for our corporate events, that we have decided that moving into 2018, we are going to continue to partner up with them so that we can carry on producing first class corporate events with a difference throughout the UK. We believe we are a match made in corporate away day and events heaven! We bring the festival, they bring the activities and boom you have yourself a top event that your employees won't forget. To celebrate this, the ridiculously fabulous peeps at EMG arranged to take us out to sea for the day and what a day it was! One of the activities that EMG supply are rib rides, that can be as part of an activity such as a treasure hunt, or simply transport to and from your event. We have all had an amazing idea of making the rib ride the transport to a boutique corporate festival for 2018. Now THAT is arriving in style! We met EMG in the little quaint town of Lymington, who then took us over to the Rib boat to get ready! We all looked absolutely gorgeous in our waterproof, baggy fisherman trousers with braces! We jumped in, and off we went! None of us had been on a Rib boat before, but boy did we love it! Let me paint you a little picture... "Set sail on the Hudson, the wind in your h-arms, you get all the peace and quiet you always wanted. You can get back to nature" (Friends reference – if we have any fans here, like us). Although we weren't blessed with the best weather, it actually made it more fun and action-packed as we flew over the waves. Our skipper, Chris showed us the beauty of Hurst Castle and then said the tide was right for us to steer over towards the Needles. We sped over, skimming the water as we went. Chris told us this area was quite famous for shipwrecks – not too put you off too much! Pulling into the harbour, we jumped off the Rib and headed to the restaurant in all of our glorious waterproofs, walking past the unlucky people waiting for the ferry! Vicky and James picked the perfect location for a late lunch at The George. As we looked out to sea, our meals arrived, from lobster to prosecco - what more could you want! We were truly wined and dined whilst we chatted about our plans to create an even more amazing corporate festival events for next year, which cant come quick enough! As we waddled back to the Rib boat (with very full tummies), Chris was ready and waiting to help us on and take us back to Lymington. The moment we left the harbour we were met by the windy waves, which splashed up towards the boat soaking the left side (those on the right side stayed beautifully dry, those on the left – well…that's a different story). Thank you so so much EMG for a wonderful afternoon out at sea and treating us to a gorgeous meal! We couldn't recommend this experience enough and now we know what it's all about, it really places us in great position to explain to our valued clients the fun that they are going to have! Here's to a great partnership and to a fantastic 2018 – Cheers! Contact us now to book your Festival! Email - info@idofestivals.co.ukTelephone - 01329 448280 #LETSCELEBRATE ​
A new and exciting addition from the Lights and Beats team!
TaDah!!!We have been busying away over the last few weeks to bring an exciting new addition to our packages. Working with Lights and Beats, our incredible sound and lights team, we are introducing to our packages the mega inflatable outside stage! This summer we got to use this outdoor stage on a few of our amazing sunny summer festivals! Here's why the outdoor stage is the best addition you could make to your corporate or wedding festival! Firstly, it completely draws the whole site together bringing in real festival vibes, which is great for us to offer to you! It's a major player in the festival world, and is the ultimate stage to really tie into the theme. It really offers the feeling of being at a major festival, with a PA and lighting rig so good it makes you feel like you are partying at Glastonbury or Bestival! Not only does this look as good as any sub-stage at a major commercial festival, but the quality is most definitely on par! The way we work with our clients is that they are absolutely free to book their own bands or use bands that we suggest. However, of course booking bands and musicians can be expensive! Secondly, just to make it truly have a festival atmosphere, using this stage allows you to have the flexibility of offering both indoor and outdoor stages to your guests. Just imagine having a chilled acoustic band indoors, and an awesome rocking band outside, so your guests can flutter between all the different sounds. And what better way to end your night then boogieing underneath the stars?! Thirdly, in our packages the stage comes with a fully trained light and sound engineer, to make sure nothing goes wrong on your day. They are there throughout the whole day, which can give you the peace of mind to enjoy your fabulous musical line up. The stage can hold up to a whooping 12 piece band! Imagine the funky sounds that can be soaring across your site!! One of the reasons that our bands love working with us so much and why we secure preferential rates is that they don't have the worry of bringing their own PA equipment or sound engineer which is a major cost to them. They can simply rock up, plug in, sound check and play safe in the knowledge that their sound will be engineered and of course that there is an electric light package to really help showcase them to the audience. Lastly, your sound stage and lights package is really worth paying for, as when you calculate the cost savings that you can achieve from the bands if a good package is provided, versus each band providing their own equipment, it becomes a no brainer! It's way more affordable than you think! Get in touch today for more information about this thrilling new addition to our festivals! Contact us now to book your Festival! Email - info@idofestivals.co.ukTelephone - 01329 448280 #LETSCELEBRATE ​
The Summer Retreat for Procurement Leaders brought The I Do Festivals crew to one of our newest and most exciting venues - Henhaw Farm in glorious Surrey! The delegates were greeted by the smiling faces of our team, who ferried their luggage into their luxury bell tent accommodation, all while ushering them inside for lovely warm welcome drinks to kick them off for a day of ice breakers and presentations… A much needed break was then taken by our guests, ready to indulge in our famous Spanish Paella - all that hard work meant the carbs were obligatory, even more so to power them through the rest of the day's activities and of course, so they were prepped to party the night away with us! After the day of conferencing, our guests treated themselves to some time to refresh themselves ready for their dinner and a fun filled night ahead! The first act of the night RemedySounds, opened his set while all our hungry guests were tucking into their scrumptious Hog Roast – obviously served with all the trimmings, we'd never forget the crackling! After getting down to RemedySounds, one of our fave acts The Smiley Campbell Band stormed the stage to perform some of their awesome modern chart covers for the crowds! Our lovely guests from Procurement Leaders were then treated to their first serving of our delicious cones of chips – keeping hungry stomachs at bay is what we do! They could even sit and enjoy our toasty warm fire pits as well, soaking in the atmosphere of the night! Of course it wouldn't be an I Do Festivals summer party without the legendary silent disco to keep the party going strong… The tunes were flowing, shapes were being thrown and some muscles were definitely being pulled! Cue the second serving of our chips to sooth the pain (and embarrassment!) 2am rolled around quick and they did NOT want the party to end, but we ensured they were all tucked into bed; ready and raring to go for the sports day in the morning… Our guests gladly filled up on the Full English Breakfast Baps to start them off, particularly after a night of heavy partying! We knew this would also give them the burst of energy needed in order to partake in the ultimate sports day we had planned for them.Guests had to compete in 7 events throughout the morning in their teams, these were:- Walk the Plank- Ski slalom- Surf simulator- Egg and Spoon Race- Sac Race- Bean Bag Race- Space Hopper Race The teams then had to fight it out in a Sumo Suit battle – making for some hilarious memories we're sure! Moving on to the Tug of War, where true team spirit and strength prevailed… The Grand Finale of the Procurement Leaders Sports Day 2017 was a test of agility, speed and stamina – our ultimate Assault Course! Every single guest had to relay race through the course, underneath scramble nets, through the giant mangles and down the slides! The Sports Day ended with the winner being announced and awards being given - Best Sports Person and Biggest Gaff of the day! All in all, the Summer Retreat was a true hit! Thank you so much to Procurement Leaders for being such good sports and well done to the White Stripes for winning the sports day!See you again soon, Henhaw! Chloe & Esmexxxx Contact us now to book your Festival! Email - info@idofestivals.co.ukTelephone - 01329 448280 #LETSCELEBRATE ​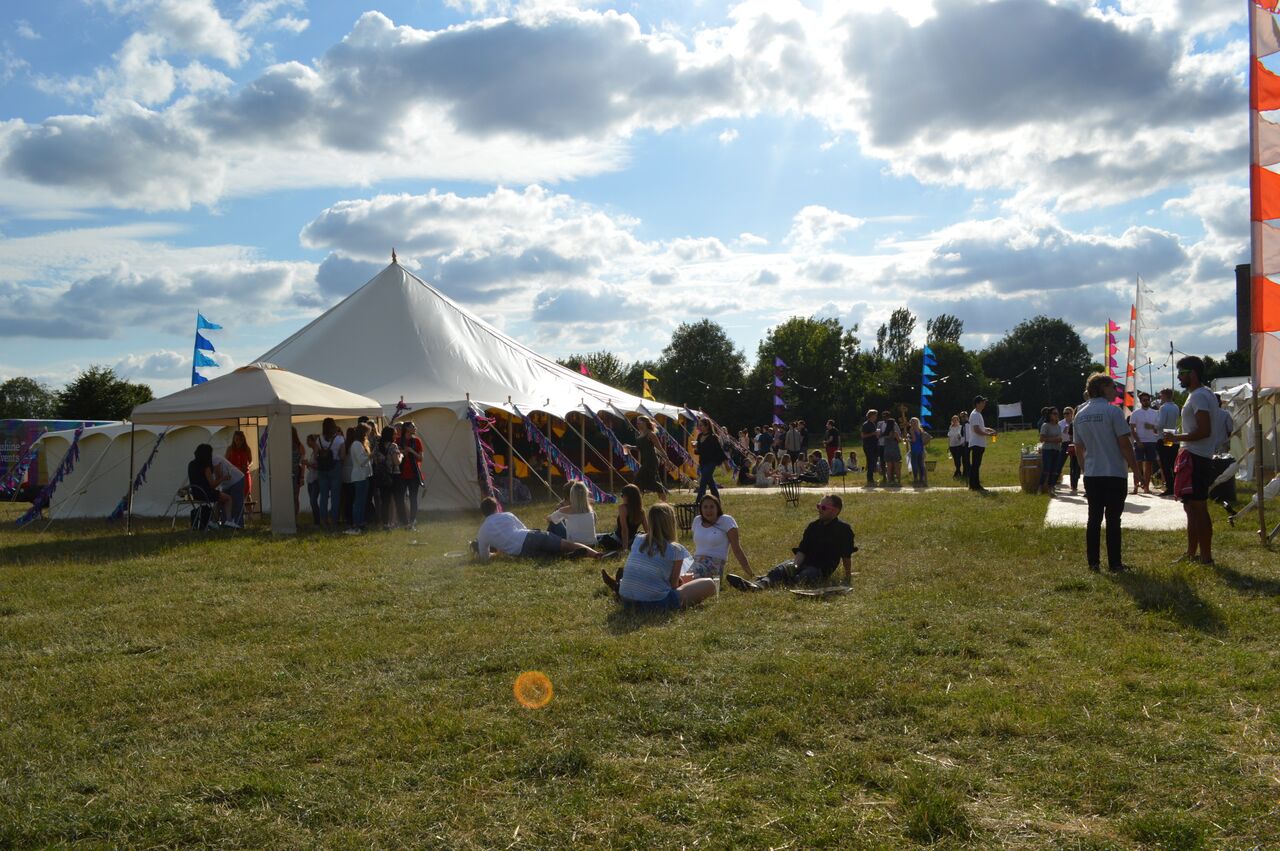 Brands 2 Life Summer Festival
Who would have thought there was a farm in central London?! Well, The I Do Festivals have the perfect venue for a little chill time at a festival in the big smoke – Mudchute Park! Along with a beautiful day and the backdrop of Canary Warf, guests were welcomed to Brands 2 Life's fun action-packed afternoon. Guests headed straight towards the 'festival glam area' where they were met by nail artists, face and glitter painters to get them festival ready! To give everyone a break from the heat wave, Just Millie drew the crowd inside for a jam session. We absolutely love Just Millie's acoustic sound as it brings a chilled vibe to all our festivals. What makes a festival even better- INFLATABLES! Guests were able to try their chance on the surf simulator or battle it out in the sumo ring! We saw a competitive side to the guests that they probably thought they never had! Fugitive Orchestra began his captivating set as the sun began to set and the scrumptious Hog Roast was served. We had choices of homemade stuffing, coleslaw and Moroccan spiced couscous along with the crispy, succulent and flavoursome crackling. The headline act of the evening was Jubilee band that played a riveting set to get the crowd dancing and grooving – along with all of the IDF crew! Their voices was outstanding and every person in the marquee was wowed with their performance! The night came to an end and our happy party goers stumbled into the distance to jump on the DLR back home. What an amazing party and what an amazing crowd! Thank you for having us, we loved having you and we hope we made your festival as awesome as possible! We shall see you in a field next year! Katy and Esme xxxx Contact us now to book your Festival! Email - info@idofestivals.co.ukTelephone - 01329 448280 #LETSCELEBRATE ​
This summer I Do Festivals hosted Bill's restaurant summer party at our central London venue, Mudchute Park, just a stones throw away from Canary Wharf and London's famous banking sector. With panoramic views of world famous landmarks you would never know a place as beautiful as Mudchute Park existed in the middle of London's hustle and bustle! We love it and we'd love to tell you more about the day! A quick intro to Bill's if you don't know much about them or haven't heard of the restaurant before (10000% recommend, their food is to die for!), they started out as a green grocery shop, then to café and soon developed into one of London's fastest growing restaurant chains. We love their quote "from breakfast to bedtime, and everything in-between", it completely sums them up! The team at Bills were greeted at the gate with smiley faces from our crew and entrance stamps, with a side of complimentary cocktails – what a perfect start to a summer party! The order of the day was as follows; Guests enjoyed Bill's complimentary bar, the hotspot being the cocktails made by the professional mixologist! The guests had free access to some funky inflatables including some serious bashing and dodging on the old-school bumper cars! Plus, some serious competitiveness going on at the total wipe-out, all whilst catching a tan in the glorious sunshine! Everyone was getting involved on the rodeo bull, encouraging their colleagues to stay on (secretly wanting them to fall off)! For an early dins, we had the lush Blue Grass Bill's on site to cook up a storm, with so many choices it was hard to pick; Louisiana smoky sausage hot dogs, roast sweet potato & bean chilli and Cajun smoky pulled chuck chilli (definitely one of the faves!) And how could we forget to satisfy everyone's sweet tooth? There was an ice cream cart, popcorn and candyfloss to meet everyone's desires - the ice cream was much needed during the day's heatwave. Seeing as we were blessed with one of England's fine summer days it couldn't be wasted, so the party carried on outside! We had some great live music that got the crowd going and singing some classics that lifted everyone's spirits even higher! Dancing shoes were off and everyone was jumping around on the hay bales with a beautiful English sunset in the background, what more could you want?! Thanks for having us Bill's restaurant, we hope you enjoyed your summer party as much as we did; smiles and laughter were in constant flow! A great day was had by all and we can't wait to do it all again next year! Esmexxxx Contact us now to book your Festival! Email - info@idofestivals.co.ukTelephone - 01329 448280 #LETSCELEBRATE ​
1. Wear wellies even when its bone dry 2. Have a partner in crime3. Dance until your feet fall off4. Try all silent disco channels5. Take as many selfies as possible 6. Bring good vibes only7. Hug a stranger8. Over-indulge on all the food9. If you lose your buddies, make new ones10. Take full advantage of the photo booth 11. Accidentally walk into the wrong tent12. Jump in a puddle if your lucky to find one!13. Be sun savvy... sun-cream is life14. Mix booze with water – your head will thank you in the morning!15. If were blessed with liquid sunshine don't let it get you down! 16. Go wild with your festival look - the more glitter the better!17. Embrace the bucket hat18. Don't forget your sunnies19. Chill out20. Expect the unexpected! Contact us now to book your Festival! View our online brochure for full info Email – info@idofestivals.co.ukTelephone – 01329 448280 #LETSCELEBRATE ​
Chi & Partners - ChillFest
The Corporate Festival Company are back, back again at glorious Mudchute Park in the heart of London's Isle of Dogs to host CHI & Partners' first ever ChillFest! The mid-week extravaganza began with troves of festival-ready guests descending on the slightly soggy site; being armed with an official ChillFest wristband and line-up lanyard! Having been greeted by the sight of a huge inflatable bungee run and well stocked bar, the party was only just beginning. Guests could take full advantage of free flowing prosecco whilst listening the the glorious tones of one of our favourites artists, Just Millie, who was on the bill first. TCFC crew spotted many guests liberally covering themselves in glitter from the Glam Station, filling up on treats from the Sweet Station and taking in the hilarity of watching their colleagues battle it out on the very slippery Bungee Run (no guests were injured in the making of the ChillFest). Despite the liquid sunshine that graced the skies, our guests were channelling summer the best they could, with the ultimate tipple of Pimms – just in time for our second artist to take the stage by storm; Remedy Sounds. As we stepped closer into the evening our two chefs created a delightful BBQ for guests to tuck into, before it was back to the dance floor for more dancing, singing and partying. Cue the arrival of The Hares Band, ready to rock the roof off of our marquee! It was such a great feeling for the TCFC crew to see every single one of their guests having such a fab time, hearing that this is THE best summer party CHI & Partners have ever thrown and generally having a ball with all the guests. The arrival of one of our best DJs can only mean one thing… big tunes and even bigger dance moves! Playing a mix of cheesy classics and ultimate party throwbacks ensured everyone was out of their seats and most definitely on their feet! The night drew to a close with every single guest begging for just one more song to top off their ChillFest experience, many hoping it would be the first of many!A massive thank you to CHI & Partners for letting us organise your legendary summer party, we had a blast and know you did too, laughter never ceasing all day! We're even more excited to be planning your Christmas party #IDoFestive Chloe xxx Contact us now to book your Corporate Festival! View our online brochure for full info email – info@idofestivals.co.uktelephone – 01329 448280 #LETSCELEBRATE​​
For those of you that know me well, know that I can pull off shizz and I am reasonably good at festivals. However, one thing you will also know is that I am not to be trusted with a secret. Not because I will maliciously gossip about it, just that the moment I am told I can't say something, a trigger goes off inside me and my vocal chords grow arms and legs, leap from my throat into my mouth and start to ply my mouth open ready to unleash its worst! This is of course all going on while my brain is still blissfully unaware of the consequences of the knowledge of said secret. Actually, thinking about it, that's not just with secrets, must try harder… So, it comes as a spectacular surprise for me that I have been able to contain myself, vocal chords and motor mouth for a few months before I can formally announce our new Creative Director. Ok I do have a slight confession here that I am writing this a few weeks before his start date and yes I do have pangs of guilt running through me in a very pleasurable way. Let me introduce you to my former guilty pleasure and now formally appointed Director of our group, Mr Max Lindsay. Max joins us having worked in the arts for 10 years. During his time and I can speak from personal experience here, he has directed and delivered some exceptional first class performances. Max began his career as an actor performing at various major theatres including the Royal National Theatre. He made the move to directing and creating plays when he joined Nuffield Southampton Theatres. During this period he directed over 18 plays including commissioning 3 new plays and working with world-renowned writers such as Philip Ridley and Evan Placey. In the last year he has been working on plays in and around London including 'Cargo' at the Arcola Theatre, Broken Gargoyles at Theatre 503 and Snow White with Duncan James and Lesley Joseph. He bring his keen eye for artistic detail as well as wealth of brilliantly creative contacts to the company. Max's role as our Creative Director for The I Do Festival Group is two-fold. Creative in terms of site design, theme and look across the group, but equally assisting us to expand into commercial festivals. We aim to work very closely with local councils to deliver all sorts of events over the next five years from food festivals through to arts festivals. These community based events are something that we have wanted to work towards for some time now, the issue has always been the financial risk of funding core infrastructure. The good news is that now we own the majority of the infrastructure the whole project becomes significantly more de-risked. We are aiming to get ourselves into the position whereby we can deliver an awful lot back into local communities other than just the delivery of the event. Max will also be working and developing our relationship with our corporate clients. Corporate festivals are fairly new to the market and we are hugely excited about the events we have booked for 2017. We are also very much looking forward to nurturing and expanding on those client relationships. Ok enough about the boring stuff…What can I tell you about Max?! Here's the low down and my brain has engaged prior to typing! I have known Max personally for five years now, he is one of the most enthusiastic, passionate and driven people I know. He is extremely hard working and a stickler for perfection. He is incredibly talented and also of course, as you can see, totally gorgeous with an infectious infamous laugh and an outrageous sense of humour. He also loves a good G&T! He is just perfect for us and we hope that we will be as perfect for him. So, we would all like you to all join us in Welcoming Max to the team. We wish him the very best of luck in his career change, we know he will absolutely shine. Love out SJ xx #LetsCelebrate ​
We know, we know. Putting on a festival of this scale seems extremely daunting. There are so many factors to remember – license applications (yep you'll need one of them to hold an outdoor event) wet weather plans (thanks UK) health & safety checks, water access, ample parking, decorations, uncle Mark's gluten free pasta option…. Ok you got the hint. An outdoor music festival celebration seems like such a great idea but then there is so much that could go wrong, right!? Well ok, someone with very little experience attempting to take on this task on their own will no doubt experience many problems, but for us at I Do Festivals it's easy, we do this every day! You'll be simply amazed at how easy we make the whole process for you! All we need to know are a few details about your celebration and we'll instantly set to work feeding you ideas and inspiration for the look and feel that you require, we'll find the right decorations and festival props, source the most mouth-watering dishes from our catering team (yes uncle Mark that's your pasta too), organise your posh loos (yes that's posh, with running water and a daily service) and start to think about how you wish to entertain your guests late into the night! Before your very eyes you will see your dream grow into a reality. Your festival site maps will be drawn up, your menu will be set, your bands booked. All you need to do enjoy the fun of planning your festival, we'll take care of the nitty gritty. With our top class ancillary services that cover all aspects of festival celebrations you can be sure of not only the highest quality of service but the best rates on the market too! Booking multiple services with us allows us to offer our clients bespoke money saving packages, so maybe you can afford that firework display at the end of the night after all! So are you gonna keep that dream a dream? Or shall we make it a reality and do something really special for your next celebration? I look forward to hearing from you. #LetsCelebrate​
The Launch of our One Stop Shop​
We are very proud to welcome you to the world of I Do Festivals, your one stop shop for festival services.We started our journey organising weddings with our now award winning The Wedding Festival Company back in 2015. It's fair to say it didn't take us long to thrive in the market and we began to receive a mass of enquiries about our services and how to put on a successful festival in general. We realised that our wealth of knowledge and expertise in organising outdoor events could be utilised in a more universal way to benefit all of our clients and save them time and money when looking to organise that celebration with a difference. Over the past year we have worked tirelessly to merge all of our services together to provide our clients with a no fuss solution to booking quality services for outdoor events. We have hand-picked our suppliers carefully so that only the greatest level of service and quality reaches our clients. We have just merged our catering company into the I Do Festivals Group which also welcomes a new addition to our team Ed Clarke as catering and logistical director. We wanted to offer our clients our expertise no matter how large or small their hire or event. Be it a simple festival flag hire to a fully-fledged festival management package, we wanted to be able to provide the same level of service to all of our valued customers. Our vision is to offer you a one stop solution to organising and executing what can seem to be a very daunting task. We wanted to show you how easy it can be, with our help to have that dream festival party you've always wanted. From weddings to corporate functions to small intimate outdoor birthday parties we are here to offer you choice, support and knowledge every step of the way. #LetsCelebrate ​
Here at I Do Festivals we are forever expanding our services. We love nothing more than getting around a table and concocting plans for how we can wow our clients next! 2017 will no doubt bring a flurry of fresh ideas to the festival planning table but here's a couple of things we have ready for you so far! Pimms Station – Ahh Pimms is the perfect afternoon summer tipple yes? Well we love it so much that we've decided to offer our clients and their guests a Pimms Station! An easy to use station filled with jugs of delicious Pimms and all the trimmings. A member of our team will be on hand at all times to dish out the juice so you can keep popping back for more! The great thing about this is it eases the queue from the main bars so you'll never have to wait long for your drinks. Simply sit back and relax ahhhhh. Bolly Bar – Our Bollywood Themed bar was so popular at a couple of events last year that we've decided to include it as an option at all events in future. Think ethnical chill out zone with rugs, comfy four poster beds, hanging Indian umbrellas, theme music and our new to 2017 fully stocked cocktail bar! Cocktail Bar – We are proud to announce that we now have a fully stocked cocktail bar and team of trained mixologists ready and waiting for you for 2017. Fancy some swanky drinks in the sun? Well now we can provide anything from Long Island Ice Teas to Mojitos and all mixed and served by one of our highly trained mixologists. What's not to love? Our Stunning Traditional Marquees – We have now purchased our own beautiful marquees for hire. Traditionally styled and utterly stunning they are perfect for any event and can hold up to 250 guests. We chose our marquees for their natural beauty but also because they are so easy to decorate in any style that you require. It's time to get creative! #LetsCelebrate ​